"If you're going to La Paz, you must go to the Witches' Market!"
Bolivia's infamous Witches' Market
It's a common refrain heard among travelers in South America: "If you're going to La Paz, you must go to the Witches' Market!"
The Witches' Market in La Paz, known as the Mercado de las Brujas in Spanish, is a collection of shops, booths, and makeshift stalls, where women dressed in layered skirts and wearing bowler hats trade in souvenirs and occult knowledge. Yatiris is the name for the medicine healers and fortune-tellers who wander the streets offering their skills and souvenirs to paceños (La Paz residents) and travelers alike. You can recognize them by their ponchos and coca pouches.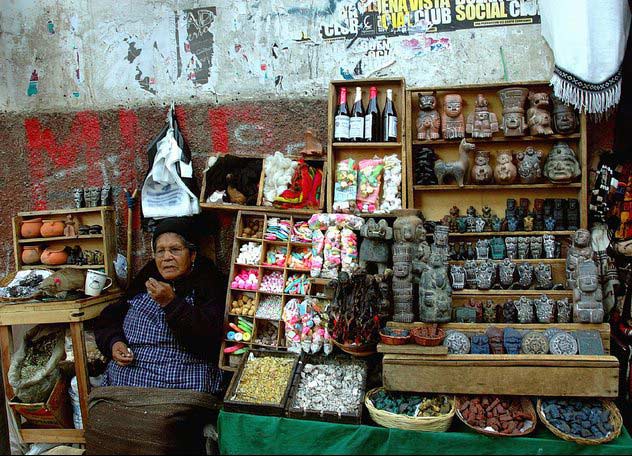 Photo by Blane of Embassy International
On sale at the Witches' Market, amid quantities of cheap trinkets, alpaca sweaters, and happy pants, are less attractive piles of dried frogs and rats, owl feathers, seeds, herbs, and insect parts, as well as medicinal plants, love potions, ceramic figures, and amulets. There are also statuettes and when you talk to the vendors, you learn that different statues serve different functions. For example, there are statues to protect children, to safeguard travelers, to attract love, or to bring prosperity to a business. Many of the items on sale are the raw materials of ancient indigenous Aymara rituals and practices that are still very much part of living Bolivian culture.
For many who seek out the Witches' Market, the main draw is the ghoulish sight of desiccated llama fetuses that are everywhere along the street, piled into baskets, crammed into boxes, or hanging on display. Bolivians consider the llama fetus (or sullu in the Aymara language) lucky and will bury one under the foundations of a new building in order to bring protection. It can also be prepared by brujas (witches) with incense, sugar and sweets, and wool dyed in multiple colors to make a mesa andina (Andean table). When burnt, the preparation brings good luck, whether to a household, business, or other venture. In both uses, the llama fetus serves as an offering to give thanks to Pachamama, or Mother Earth.

Llama fetuses sold at the Witches' Market in La Paz, Bolivia.
You may be wondering where these llama fetuses come from. Well, it is not uncommon for llamas to miscarry during the rainy season. The aborted fetuses are collected and then sold in markets like this one.
Interestingly, the Witches' Market in La Paz is predominantly composed of women business owners. This market has existed for years and years and many of the shops, and the knowledge that is exchanged within them, have been passed on through generations of women. Additionally, in Bolivia, where home and business are often merged, the witches and folk healers that ply their trade along Calle Linares in La Paz also live on this street.
How to find the Witches' Market in La Paz, Bolivia
From the center of La Paz, walk from the Plaza San Francisco – leaving the plaza with the church on your right-hand side, and wander up Sagarnarga which is lined with tourist souvenir shops and travel agencies. After two blocks, you'll reach the Witches' Market, which lines Linares street to your left and to your right, where it also flows into Jiminez, running up to Santa Cruz.

Plan your own trip to Bolivia
Bolivia and Peru are perfect for a dual-country holiday. Contact one of our expert travel advisors to start planning your fully customized trip to Bolivia and other destinations.

Anabel has been exploring the length and width of South America since 2010. Ditching preconceptions, settling into the local pace, and embracing the unexpected are the tenets of her philosophy of travel – and life.