A trip to the Galapagos Islands is the ultimate getaway. This archipelago is made up of 19 islands and filled to the brim with incredible animals and picturesque moments. Causing many travelers to question: How many days in the Galapagos Islands will be enough for my Galapagos trip? 
Since the answer depends on each specific traveller, I spoke with Latin America For Less' Travel Advisors Adam Laughter and Rylee McGowan for their advice. No matter your travel desires, we've got the answers for you! 
How long does it take to get from mainland Ecuador to the Galapagos Islands? 
The flight from Guayaquil to Baltra is one and a half hours. From Quito, the flight is about two and half hours due to a short stopover in Guayaquil to pick up more passengers. 
By sea it takes 3 days to reach the Galapagos Islands from Ecuador. Boats depart from Guayaquil to the Galapagos. Most often these are cargo ships with basic accommodations not matching the luxury cruises in the archipelago. We recommend the short plane ride instead to maximize your time. 
There are two airports in the Galapagos Islands: Seymour Airport on Baltra Island, and San Cristóbal Airport on its namesake's island. Most flights arrive in Baltra and it will take just over an hour to drive from Baltra to your hotel or loading dock. 
Because of the cost and time that it takes to get from mainland Ecuador to the Galapagos Islands, it's best to opt for more time on the islands than less. With most people having about a week to travel, 5 days in the Galapagos Islands is the ideal amount of time that also considers international and domestic flights.
How many days do you need in the Galapagos Islands
to do a cruise? 
A cruise is one of the best ways to see many islands and live in lavish luxury! Laughter says "I think 4 to 5 days is the perfect amount considering the number of nights you have to sleep on the ship." Keep in mind that light sleepers may be affected by the nightly movement of the ship. While this allows you to cover ground, it's recommended to take extra care to have a good night's sleep. 
Check out our complete 8 day Quito & Galapagos Cruise tour or customize your itinerary however you prefer! 
How many days is enough for an Island Hopping experience?
Island hopping is a great alternative to a cruise, especially for those who tend to get seasick. Adam Laughter says, "for an Island Hopping trip, 8 days is a fantastic amount of time to be able to stay on all three inhabited islands (Santa Cruz, San Cristobal and Isabela)." 
You can shorten your adventure with a 6 Day Galapagos Island Hopping Package, but for the best mix of relaxation and exploration we recommend you add a free day into your Galapagos itinerary. 
Not sure if a cruise or island-hopping is the best Galapagos experience? Read our article to decide for yourself which is ideal for you! 
How many days in the Galapagos is needed for people doing specific activities like diving? 
McGowan says, "For those with a deep interest in diving, I'd recommend perhaps 6-8 days total." Always keep in mind that your last diving excursion needs to be at least 18 hours before your flight back to mainland Ecuador. Check out our list of things to do in the Galapagos Islands for your last day if you're a diver. 
How many days in the Galapagos
as a minimum? 
Adam Laughter says "A minimum for either program is always 4 days just considering the travel time and cost." 
Because the flight from mainland Ecuador to the Galapagos is costly and cuts your first and last day as a travel day, 4 days really means only 2 full days of exploration. Rylee recommends, "a minimum of 5 days / 4 nights in the Galapagos Islands" for a fuller experience. 
Is there a limit on how many days you can stay in Galapagos
?
In order to enter the Galapagos Islands you'll need to pay the Galapagos entrance fee. But, McGowan shared, "You only need to pay the Galapagos fee one time, upon arrival to the Galapagos Islands at the airport. The fee is the same for a passenger doing a 5 day cruise or a 15 day cruise. [The] maximum amount of time would be until your Ecuador tourist visa expires." 
How many days should I spend in the Galapagos
if I want to see every island?
Laughter tells that travelers need 14-15 days to see every single island in the archipelago. However, we recommend adding in some free time between snorkeling, hiking, and exploring lava tunnels for two weeks.
How many days to visit Galapagos Islands
and Machu Picchu?
Heading to South America to visit the Galapagos Islands is an awesome opportunity to include a stopover trip to the world wonder in Peru: Machu Picchu. Rylee recommends "12-13 days in total for both the Galapagos & Machu Picchu areas". But since cruises in the Galapagos depart on specific dates, it's best to plan the Galapagos dates first then build your Machu Picchu adventure around that. 
Check out our recommended 11 day Galapagos & Machu Picchu tour or talk with Rylee McGowan to plan your dream getaway. 
How many days do
you
need in the Galapagos Islands? 
I asked McGowan, How many days in the Galapagos for a "complete" feeling trip? She responded, "The 5 day/ 4 night programs offer a great overall Galapagos experience and highlight the island & wildlife diversity, but for those seeking an in-depth experience, I'd recommend a week-long cruise of the archipelago." 
The Operations Manager at Latin America for Less Elizabeth Cabrera agrees saying,  "I think a 5 day/ 4 night program is good, if you have the money and time to do more: go for it!"
So, the answer to how many days in the Galapagos depends on you! If you want to get an in-depth tour of many different islands, the more time you have the better! Otherwise, 5 days in Galapagos is the perfect amount of time for your dream Galapagos vacation. 
Ready to start planning? Talk with Rylee McGowan or Adam Laughter about your ideal Galapagos trip today! They'd be more than happy to share their advice and adventures with you!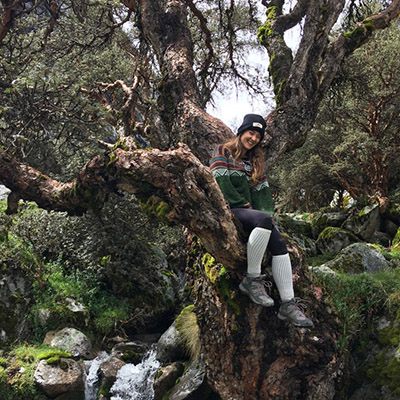 Originally from Canada, Michelle is a wanderer who has made Peru her home since 2018. In search of the best Red Velvet cupcake, she has been eating and travelling her way through Peru and South America ever since. Obsessed with glaciers, mountains, and french fries Peru has become her home away from home.