Street art is making an international impact and its growing popularity in South America has not gone unnoticed. Take a peek at the South America street art movement through some of the most impressive works found in Peru, Brazil, and Argentina.
Street…..Art? We think so.
While there is little consensus around the actual history of street art – some claim its beginnings in New York City, others trace the roots as far back as pictographs painted on canyon walls- the growing trend of street art in urban centers is hardly debatable. This summer, Fodor's released a list of the top 10 cities for street art, and South American destinations dominated, occupying a third of the seats. With a spike in the movement following the attention received by famous street artist Banksy, artists are popping up all over, painting and plastering their works on the sides of buildings, sidewalks, billboards and more. The reputation of some South American cities as thriving centers of street art culture has invited artists both locally, regionally and internationally to create their own works of art. Alongside Buenos Aires, Argentina; Santiago, Chile; and Sao Paul, Brazil on Fodor's list were some internationally renowned centers of creativity like London, New York City and Melbourne. Although Peru didn't make Fodor's list, some up-and-coming artists are worthy of attention and included below.
1. Buenos Aires, Argentina
Buenos Aires is fair game for street artists, so long as the owners of the building give consent. These progressive policies and the thriving art scene have not only encouraged local artists, but invited contributions from international art big names like Blu, Jef Aerosol, Aryz and Ron English.

Street art by BLU Photo by BA Street Art
This politically charged piece by famous Italian Street Artist, BLU, is just another in the list of walls transformed into his canvas in Buenos Aires.

Street art by Martin Ron/Buenos Aires, Argentina Photo from Fat Cap
This piece by Ron, one of Buenos Aires' most prolific artists, joins other outstanding works in the popular street art neighborhood of Via Urquiza.

Street art by Martin Ron / Buenos Aires, Argentina Photo from Street Art Utopia
Another piece by artist Martin Ron located in the Caseros neighborhood of Buenos Aires.
2. Santiago and Valparaiso, Chile
Although street art is illegal in Chile, the government seems to turn a blind eye when it comes to the Barrio Bellavista  –  the thriving center of the Chilean street art scene.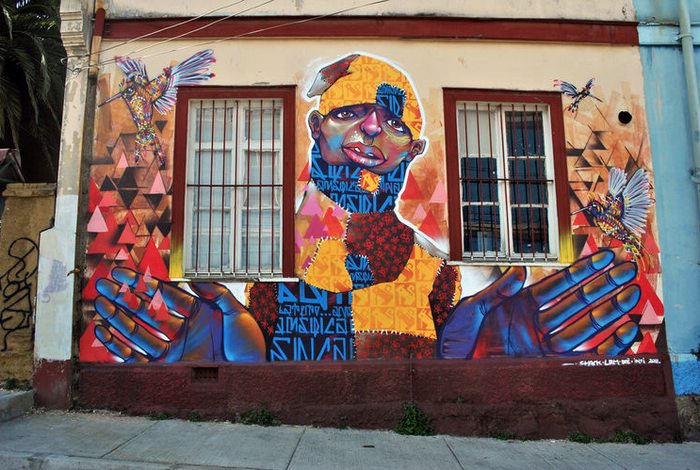 Street art by LRM & Charquipunk/ Valparaiso, Chile Photo from FatCap.com
This piece was a collaborative effort by LRM (La Robot de Madera) and Charquipunk, two of Valparaiso's most famed artists. Their work can also be found on the walls of Buenos Aires.

Street Art Museo a Cielo Abierto / Santiago, Chile Photo from Charles C Lynch/ Flickr
Called 'the most colorful museum in the world', this collection of street art can be found in the San Miguel neighborhood of Santiago, Chile.
3. Sao Paulo and Rio de Janiero, Brazil
Batman Alley, a street art mecca in this thriving industrial city is littered with works by famous locals like Os Gêmeos and Vlok. The graffiti corridor is regularly painted over and artists begin anew.

By Kobra / Sao Paulo, Brazil Photo from MC Winkel/Design und so
This 52-meter tall mural by Kobra honors architect Oscar Niemeyer who died in December 2012 at nearly 105 years of age. This incredible mural covers the entire side of a skyscraper in Sao Paulo's financial district.

By JR / "Women are Heroes" / Rio de Janeiro, Brazil Photo from Jr-art.net
In the Moro de Providencia favela in Rio de Janeiro Brazil, street artist JR painted the faces of women who are the primary victims of war, rape, crime and violence.  In August 2008 the art exhibition, Women, took over this notoriously violent favela.
4. Lima, Peru
Although Peru is perhaps a step behind it's South American neighbors in regards to the street art scene, it doesn't seem it will stay that way for long. Up-and-coming artists like Decertor and Eliot Tupac are making their way into the international pool of talented artists, drawing attention, and art, to the walls of Lima.

 By Eliot Tupac/ Lima, Peru Photo from Fatcap.com
Tupac and Decertor, two of Lima's most well-known and prolific artists came together to create a set of works under the name 'prueba y error'.

By Decertor / Lima, Peru Photo from misionmisericordia
The works that Decertor and Tupac create together are an attempt to express one idea through unique tactics. Tupac's contribution is marked by the neon letters, while Decertor tends to create the surrealistic human forms.
While there is some continued discourse as to whether or not this is truly "art", the street art movement, often dubbed the post-graffiti movement, is clearly different from territorial graffiti or corporate art. We think some of it is truly impressive. How about you? Let us know what you think and leave a comment below.

Articles, videos, and more
Articles: Street Art News Blog: South America's Wave of Street Art Festivals Global Voices: Graffiti and Urban Art Voices from Latin American Streets Books: Nuevo-Mundo-Latin-American-Street Videos: Women are Heroes Brazilian Graffiti Artists go to Extraordinary Lengths A compilation of South American Street Art
Take an urban tour of South America
Contact our team of expert travel advisors to customize your own tour to South America.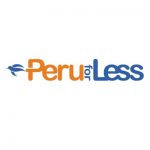 Latin America for Less is a group of travel experts who live, work, eat, and breathe all things South America. Their inspiration stems from a deep appreciation for the beauty and diversity that make this continent so special.