Hello Rylee,
The overall experience was great! This tour is perfect for anyone, especially for wine lovers. I will definitely use Latin America For Less the next time I am in South America for vacation.
Brier
---
Create Your Dream Vacation Now
Travel to Argentina: Patagonia
Discover Patagonia during your fully customizable Argentina vacation. All of our Argentina tours have daily departures and are covered by our price guarantee.
Why travel to Patagonia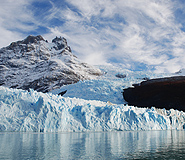 Straddling the southern tip of the vast South American continent, Patagonia is an intriguing and legendary land of endless and rugged landscapes, remote communities, and breathtaking vistas. With a rich and often romantic heritage of ancient history, daring adventures, and desperate survival, Patagonia has assumed the status of civilization's most isolated outpost.
Yet Patagonia is a region of many faces. Its sheer size makes it a geographically and culturally diverse land that offers an almost endless array of adventures for the modern day traveler who wishes to recreate the pioneer lifestyle of years gone by, and experience firsthand what puts the "great" in the Great Outdoors.
Patagonia is made for adventure, and activities range from ice trekking across glaciers to climbing the savage and world famous Mount Fitz Roy, to spending days hiking in the woods or enjoying some of the best skiing in the Western Hemisphere. Whatever thrill you seek, you are bound to find it here.
Environmental extremes and almost complete isolation have left the area a largely unpopulated wilderness, making it a sanctuary for wildlife. The shores of the east coast are home to vast colonies of marine life, including whales, sea lions, and penguins, while in the Patagonian Andes, condors, huemul (a type of deer), guanaco (a close relative to the llama), and various other bird and mammal species live.
Argentinean Patagonia is home to a number of towns and cities that break up the region and make it more accessible for visitors. Destinations such as El Chalten, El Calafate, or Puerto Madryn all provide a good base from which to set off on forays into the wilderness. Travel to Bariloche for an incredible skiing adventure and stop in Ushuaia to say you've actually been the end of the world.
Travel is convenient by air, while road trips are an experience of their own. Long, sometimes unpaved routes wind and rupture through the vast plains, including Route 40, which was famously traveled by Che Guevera in his youth. Read about top Patagonia tours and plan your exciting Argentina travel adventure.
What to do in Patagonia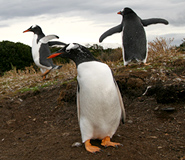 El Calafate. The town of El Calafate, toward the southern end of Argentina Patagonia, is pleasantly situated on the vast and dramatic Lake Argentina. El Calafate is ideally located for explorations into the nearby Glaciers National Park, a vast and frozen wonderland where colossal rivers of ice flow off the Southern Continental Ice Field and into the beautiful turquoise waters of Lake Argentina.
From El Calafate it is easy to take tours of the Perito Moreno Glacier and others, and enjoy the unique experience of hiking across these awe-inspiring and unimaginably huge frozen rivers. For those who prefer relaxing, a boat tour of the glaciers is highly recommended and the experience of sailing right up to the face of several stories high glaciers, and watching building size chunks of ice hitting the water below is truly a sight to behold.
With the airport nearby, El Calafate is a convenient hub for forays into the wilderness, but is also a pleasant town in its own right, with shops, bars and restaurants, plus a wide range of excellent hotels.
El Chalten. Wannabe adventurers visiting Argentinean Patagonia are well advised to head for the tiny town of El Chalten, a few hours bus ride from El Calafate. This is the action capital of the entire region, where hikers, climbers, mountaineers, and trekkers head to experience the unspeakable beauty of the mountainous landscapes.
El Chalten is located in the shadow of the famous Mount Fitz Roy and a stunning mountain range where jagged peaks pierce the endless skies and beautiful lakes mark the end-point of winding, almost endless glaciers.
It is possible to take an organized trek through the mountains, or hire equipment and go solo. The national park is very well maintained, trails are properly marked, and designated campsites are located at convenient locations around the reserve.
Bariloche. The picturesque town of San Carlos de Bariloche lies further north than El Chalten, in the foothills of the Andes along the shores of the Nahuel Huapi Lake. A skier's dream, Bariloche is within easy reach of the popular resort of Cerro Catedral, which draws skiers from all over the world to experience the tremendous slopes, excellent snow, and unbeatable après-ski.
During the summer season, a tour of Bariloche is a big draw for trekkers and hikers, offering endless trails with beautiful views over snowcapped mountains and lakes. The town is known as the chocolate capital of Argentina and no trip here would be complete without a visit to one of the many fondue restaurants.
Puerto Madryn. The Atlantic coast town of Puerto Madryn is a small village that has become popular thanks to its ideal location right next to the Valdez Peninsula where enormous colonies of marine wildlife live. Puerto Madryn, along with many other towns in the area, has a unique heritage. They were populated by Welsh immigrants during the 19th century and in many of the towns it is still possible to hear the Welsh language and visit a traditional tea shop.
The nearby Valdez Peninsula, accessible on your Puerto Madryn tour, is marked by its vibrant coastline, stunning array of tall cliffs, rocky reefs, and exotic marine mammals. Large colonies of sea lions, Magellanic penguins, and elephant seals lay side-by-side along miles of coastal beaches, while southern right whales harbor in the gulfs. This is one of the best places for whale watching in the world.
Ushuaia Tour.At the furthest southern tip of Argentine Patagonia is Ushuaia, known as the "city at the end of the world." It is the most southern city on the planet, and the next stop down is the Antarctic. An intense adventure activity hub, the city is best known as the access point into the famous and emotive Tierra del Fuego (land of fire) which can be visited with a tour of Ushuaia.
Patagonia Cruises. Starting from Ushuaia in Argentina and ending at Punta Arenas in Chile, a variety of Patagonia Cruises offer a remarkable journey through one of the planet's last pristine wilderness areas. From the comfort of a cruise ship you are able to see the striking beauty and tempestuous grandeur of waterfalls streaking down misty mountainsides, of stone fingers thrusting into the clouds, and colossal glaciers tumbling to the sea. This is the ultimate way to view the wonders of Patagonia in the finest comfort and style.
Explore the Chilean Patagonia. The activities available in the Argentine Patagonia are endless, but not all inclusive. Half of Patagonia falls inside Chilean boarders, and for a complete Patagonia experience, it is best to visit the region from both sides. While the Argentina half is best for on-land adventures such as hiking and skiing, the Chilean side offers impressive sea excursions, turquoise waters, and icy adventures. Primarily an archipelago, the best way to appreciate Patagonia in Chile is via a boat. Gazing up at jagged glaciers from sea level allows one to appreciate the real mass of these mountains of ice.
South of Chile lies one of the true gems of Patagonia, the Torres del Paine National Park. Shared by both Chile and Argentina and known for its stunning landscapes of mountains, forests, glaciers, and fjords, the park is most easily accessed by the quaint towns of Punta Natales and Punta Arenas in Chile.
When to visit Patagonia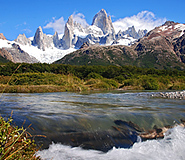 When you should visit Patagonia depends on what you wish to do there. Many Patagonia hotels, particularly in the far south, are closed between late April and early November due to extremely low temperatures. However, this is a perfect time for skiers, and resort towns such as San Carlos de Bariloche and Ushuaia are lively during this period.
Summer in Argentina generally runs from December to April. Summer is the best time to visit if you want to go exploring, camping, or trekking. If you like marine wildlife, the whale mating season lasts from September to November, which is the easiest time to spot these great creatures. Other animals, like seals and sea lions, are easy to see along coastal areas year-round.
Travel Testimonials

This was one memorable trip and your company made it smooth. I would have never organized a trip like that on my own! I'll definitely use your company again and recommend it to my friends. Top notch operation. I would like to thank you from the bottom of our hearts for the job well done.
Serge Birbrair, Florida, USA, traveled to Patagonia in December 2009
---
The trip you organized for us was wonderful, thank you ever so much. No problems, no delays, just great. All the hotels were lovely and the tours too. The Perito Moreno Glacier is just amazing and we think the highlight of the trip in Argentina. We perhaps didn't need to go to Puerto Madryn as it is very like a region we have in South Africa and very barren, but it was ok. Chile was great too. Thanks again for you help and a very fulfilling holiday.
Llyris Berry, South Africa, traveled to Patagonia in February 2011
---

Thanks again for your great work in planning our trip. At first, we were a little wary about using an online travel agent, but we had a great experience; it never felt impersonal, which we had feared. On the contrary, the service was always very warm, responsive, and accommodating, especially compared to other agents that we had contacted. You were very flexible about our scheduling, our budget, and dietary restrictions, and there was never a problem reaching you by phone when that was more convenient. I would gladly recommend Argentina for Less to anyone traveling to that region, and would use them again myself. Thanks!
C. Yuan, New York, traveled to Patagonia in November 2009
El Calafate Hotels
Posada Los Alamos 5*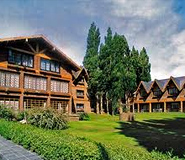 Ing. Hector Mario Guatti 1350, El Calafate
The Hotel Posada Los Alamos is a family-owned business beautifully situated along five acres of lush gardens along Lago Argentino in El Calafate. Its excellent services include a golf course, a full workout gym, an indoor swimming pool and spa, a library, medical facilities, secretarial services, safe-deposit boxes, mini bars, childcare services, a hairdresser, a laundry service, a restaurant and bar. Its spectacular setting, luxurious design, and outstanding service make this a truly special hotel. This elegant hotel features 144 rooms exclusively decorated for the most discriminative travelers, with stunning views of the gardens and mountains.
---
Hotel Esplendor Calafate 4*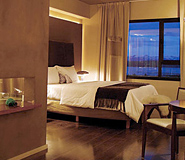 Presidente Peron 1143, El Calafate
Located downtown and boasting a fantastic view of the lake, the Hotel Esplendor Calafate certainly lives up to its namesake. The grand white stone building reflects the impressive snow capped mountains and glaciers that surround the Patagonian city of El Calafate. The décor aspires to Patagonian wares and is designed with the finest regional materials such as incense timbers and plaster made with native sands. The well-kept rooms are simply decorated with local materials and have comfortable beds and amenities. The restaurant serves various Argentinean dishes with locally sourced ingredients and there is a relaxing bar where you can unwind after a long day exploring the area.
Hotel Esplendor Calafate Photos »
---
Los Canelos 3*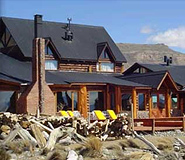 Puerto San Julian 149, Lago Argentino, El Calafate
This rustic mountain lodge-style hotel lives up to its name, outfitted in a dark brown wood exterior and interior. Only a short walk from town, its tucked-away location and charm help you forget the hustle and bustle from downtown. Enjoy marvelous views of Lago Argentino, and let the friendly and professional staff cater to your needs as you relax.
El Chalten Hotels
Hotel Los Cerros 5*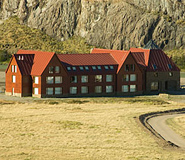 San Martin 260, El Chalten
Under the slanted red roof of this cabin-style hotel you'll find the finest place to rest your head in the region. Wild grasslands surround the hotel on all sides while large windows offer views of the grasslands and the Patagonia mountains just beyond. 44 bedrooms vary in size and grandeur, with the best rooms equipped with king size beds, hydro-massage tubs, and boasting spectacular views of the Rio de las Vueltas. Services include a gift shop, common area with fireplace, salons and relaxation parlor. The bar has regional liquors, wines from throughout South America, strong cognacs and malts, plus Cuban and Dominican Republic tobaccos. If you're lucky, you might just catch a sunset during happy hour. The gourmet restaurant serves seafood, wild game, Patagonia stew and lamb, smoked and homemade cheeses, and specialty-crafted desserts, along with a long wine list.
---
Hosteria El Puma 4*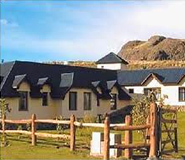 Lionel Terray 212, El Chalten
Located at the foot of Monte Fitz Roy and Cerro Torre, Hosteria El Puma offers comfortable accommodations to those wanting to relax after a long day of trekking Patagonia's finest mountains. Beige walls, local brick, and soft cotton curtains and ironwork decorate the cozy interior. Comfortable and luxuriously appointed, the chic rooms all face the snowy peaks and boast spectacular views. The restaurant Terray serves exquisite "mountain cuisine," from Patagonia lamb to rainbow trout, along with fine wines. Available services include laundry, room service, central heating, security boxes, wireless internet, and a fireplace in the lounge. The bilingual staff is always on the lookout to satisfy all guests' needs and make sure they spend a pleasurable moment at the hotel.
---
Hosteria Senderos 3*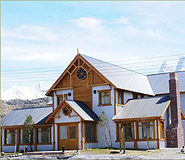 Perito Moreno, El Chalten
Located along the Rio de las Vueltas, the Hosteria Senderos boasts gorgeous teak wood exterior and a vintage farmhouse style. The 21 rooms are warm and inviting, with wooden furnishing and comfortable beds. Facilities include an American-style buffet breakfast, wine bar, reading room, a lounge with fireplace, room service, and laundry service. The helpful and courteous staff speaks English and is committed to satisfying guests' every wish.
Bariloche Hotels
Hotel Llao Llao 5*
Av. Ezequiel Bustillo Km. 25, Bariloche
The internationally renowned Llao Llao Hotel & Resort is one of the finest hotels in Latin America, as much for its magnificent location as for its sumptuous, elegant interiors and refined service. Situated on the Llao Llao Peninsula, the hotel was built in 1938, and features 159 comfortable and tastefully decorated rooms. The spa offers views that are nothing less than panoramic, with treatment rooms affording breathtaking lake and mountain vistas. The hotel's exquisite restaurant, Los Cesares, is the best in the Bariloche area, and the business center has free Internet access available for registered guests. Among the facilities of this luxurious accommodation you will find a heated swimming pool, bar, lounge, golf course, tennis courts, gym, spa, children's center, and shopping arcade, to name only a few.
---
Design Suites 4*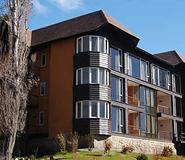 Avenida Bustillo Km 2,5 (R84402AAX), Bariloche
Patagonian-chic is what you'll find at the Design Suites Hotel in Bariloche. Although the interiors and exteriors of the hotel are made up of local woods and stones, there's nothing rustic about this exceptionally modern lodging. All 60 suites have floor-to-ceiling windows which provide breathtaking views of Lago Argentino. Spacious and comfortable, the suites offer internet access, a fully-equipped kitchenette and a flat-screen TV, among other amenities. The hotel itself boasts an on-site gym, heated swimming pool for dipping during the winter and an art gallery.
---
View Hotel Boutique 3*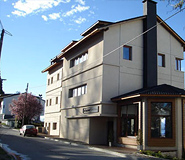 Tucumán 221 Esq. Güemes, Bariloche
Located on a residential street, away from the hustle and bustle of the city center, the View Boutique Hotel provides tranquility within a busy and dynamic town. The building sits atop a slight hill, therefore all 12 fully-furnished suites are dotted with a beautiful view of Lago Argentino. Rooms are decorated in a minimalist and contemporary style yet are extremely comfortable and well-appointed with cable TV, a queen-size bed with crisp linens, and ample lighting which all provide the utmost convenience. A delicious continental breakfast of toast, croissants, marmalades and coffee is available to guests and a welcoming common area with a fireplace is a good place to warm up after a long day of Patagonian sight-seeing.
Puerto Madryn Hotels
Hotel Territorio 5*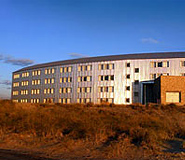 Bv. Almirante Brown 3251
Hotel Territorio in Punta Cuevas, Puerto Madryn, is a top-notch boutique hotel with splendid views of the Gulfo Nuevo. The hotel's prime location and opulent amenities are well complimented by the attentive, friendly staff. 36 guest rooms are carefully decorated with modern touches, and all have views of the sea, plus mini-bars, dressing rooms, TV, telephone, safe-deposit boxes, energy controls, and card key door locks. There is also a gym and spa with Jacuzzi, Scottish shower, massages, and special treatments available. The hotel's restaurant serves exquisite Patagonian cuisine and the wine cellar is well stocked with Argentina's best wines.
---
Hotel Peninsula Valdes 4*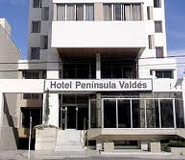 Julio A. Roca 151, Puerto Madryn
Located right on the beach in Puerto Madryn, Hotel Peninsula Valdes is a warm and inviting beach house hotel, where each and every detail is carefully considered to make your Argentina vacation as comfortable as it can be. The 76 ample rooms offer gorgeous sea views, air conditioning, cable TV, telephone, internet access, and spacious bathrooms with hair dryers. The hotel also features 24 hour room service, a full service bar, a laundry service, safe-deposit boxes, computers with internet access, and a spa with a gym, sauna, Jacuzzi tubs, and health care professionals to help you relax and enjoy your vacation to the fullest.
Hotel Peninsula Valdes Photos »
---
Hotel Tolosa 3*
Roque Saenz Pena 253, Puerto Madryn
The stylish Hotel Tolosa is ideally located a mere two blocks from the waterfront. It features comfortable guest rooms of varying sizes, including triple and quadruple rooms. Some of these rooms include hydro-massage, mini bars, and many more great amenities. Standard services include buffet breakfast, internet, and even a bicycle to take self-guided tours around the waterfront or the city. The hotel's cafeteria serves delicious light snacks, and other amenities include 24 hour room service, parking, dry cleaning and laundry, babysitting, safe-deposit boxes, and luggage storage.
Ushuaia Hotels
Hotel Los Cauquenes 5 *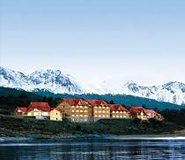 Reinamora s/n, Barrio Bahía Cauquén, Ushuaia
Located right on the shore of the Beagle Channel, only a few miles outside Ushuaia, the Los Cauquenes Hotel is a gem of luxury. You will only find five star services at this full resort and spa. The 54 rooms boast front-row views of the Beagle Channel or the Andes, and are fully equipped with TVs, telephones, safe-deposit boxes, and mini-bars. Babysitting, storage for ski equipment, complementary PCs with internet access, and laundry and dry cleaning services are available. Guests will also find a health club, fitness center, drug store and gift store in this all-in-one resort. To top it off, this hotel also has a fabulous restaurant serving up international and local specialties with an impressive wine list to match.
---
Hotel Los Yamanas 4*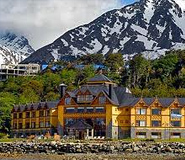 Los Nires 3038, Ushuaia
Located on the coast of the Beagle Channel about 2 miles from Ushuaia, Hotel Las Yamanas is steeped in the history of the Yamanas people, the ancestors of the region. All rooms are decorated in a rustic style, with elegant wrought iron bed frames, gorgeous bedspreads and absolutely breathtaking views of the channel and the snow-capped Andes. Rooms are equipped with sommiers beds, color satellite TV, internet, mini-bar, telephone, safe-deposit box, and heating. Other services include 24 hour laundry service, a reading room, a fitness center including hydro-massage and water Shiatsu, steam baths, a sauna, massage, and exercise equipment. You can also take advantage of the bi-weekly Argentine barbeques, and stroll along the footpaths comprising the extensive grounds. The restaurant serves excellent wine, Fueguino lamb, fresh salmon, and many more exquisite dishes.
---
Hotel Macondo House 3*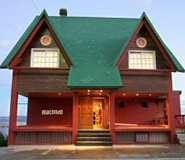 Gobernador Paz 1410, Ushuaia
An intimate bed and breakfast, Hotel Macondo House, is located in a beautiful spot just a short walk from the center of Ushuaia. The interior is elegantly decorated with natural, earthy tones, and offers stunning views of the Ushuaia bay and mountains. The living room is complete with a cozy fireplace, and the hotel's seven rooms are spacious and stylishly decorated with fresh white linen and wooden flooring. Guests will without doubt enjoy the home-made Argentine breakfast, served by the friendly staff.

Argentina Pictures | Argentina Hotels | Argentina Tour Packages
We do have the lowest prices. We will meet or beat any internet published rates from companies outside Argentina
for all package tours. All HOTELS and TOURS are based on US standards. No late booking fees.
We have the best testimonials. Our professional and expert staff is at your service and will reply to any request
within 24 hours. While traveling in Argentina you will have access to our local 24/7 emergency number.